---
COMMITTEE AGAINST EXPANSION OF AMPUGNANO AIRPORT – SIENA
---
PRIVATE MAJORITY SHAREHOLDER GALAXY WITHDRAWS FROM SIENA AIRPORT COMPANY: A CITIZENS' VICTORY

The Committee against Expansion of Ampugnano Airport - Siena expresses its satisfaction at the official announcement that Galaxy Management Services, offshoot of Galaxy Srl, a private equity fund based in Luxembourg, is withdrawing from the company Aeroporto di Siena SpA.
Galaxy was selected in an irregular competition, in which a commission (currently subject to a magistrate's inquiry) chose a monstrous project of expansion to 700,000 passengers per year by 2020, soon embarassingly reduced by the airport compnay and local administrators to 500,000 and then 100,000 passengers per year. Despite the Ministry for Transport's non endorsement of the privatisation process and the agreement signed by public and private shareholders, in 2008 Galaxy illicitly took control of the board of directors of the airport company, with four board members out of seven.
Galaxy's withdrawal from the company and cancellation of the board of directors is not a defeat, as a local newspaper would suggest, but a triumph of democracy and legality, a triumph for which the citizens of Siena have paid a high price in the last few years, tens of millions of euro wasted by their administrators to prop up the airport. This money could have served the community much better if used to modernize the railway or repair the Siena-Florence highway, both in pitiful state and used daily by thousands of tourists and citizens of Siena province.
To admit one's mistakes is not a sign of weakness but strength: had the local administrations admitted their mistake earlier, they would have wasted less money and less time, demonstrating their will to serve their communities instead of a few unscrupulous wheeler-dealers.
The battle against this senseless, illegal and unsustainable (both economically and environmentally) project was won by a committee of citizens from all walks of life, that immediately acquired thousands of supporters in the province of Siena alone and was endorsed by major associations such as WWF, Italia Nostra and Legambiente, and many other local, national and European political and social movements.

HELP US SAVE TUSCANY FROM THE ASSAULT
OF PROPERTY AND FINANCIAL SPECULATION!
Our area is threatened by plans to build a new
intercontinental airport in the Padule plain between Rosia,
San Rocco, Orgia, Brenna, Stigliano and Torri.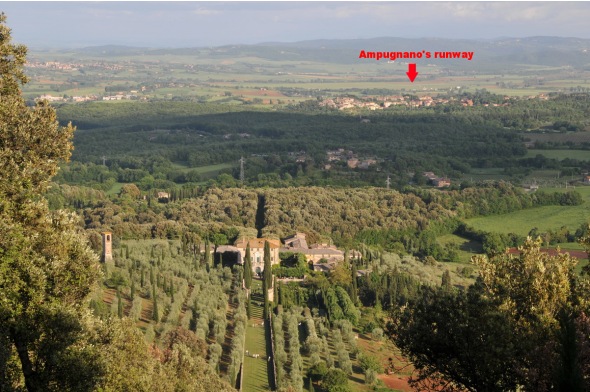 Click here to enlarge the picture (high resolution)
Click here to watch other pictures of our land


"Statement by Dr Karin Geiselhart, Al Gore Ambassador for climate change" . PDF


EXPANSION OF AMPUGNANO AIRPORT (Siena)
Presentation at the European Aviation Campaigners' Conference
Brussels, 30 October - 1 November 2009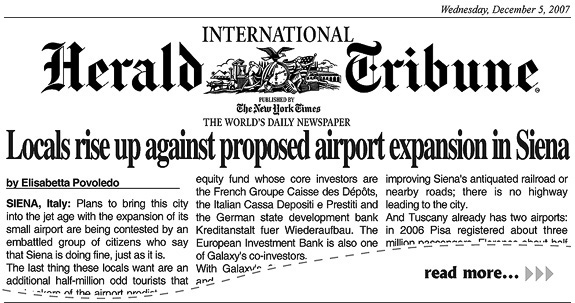 Publicly support the aims of the Committee against
Expansion of Ampugnano Airport – Siena!

Write to our local administrators deploring this project!
The project will completely destroy what you and we love about our area, our drinking water, our nature reserves, our health, our peace of mind and our way of life.
The motivations of this plan are merely financial and speculative. Siena is one hour far from the airports of Firenze and Grosseto. The latter is a big military airport that can be activated as a civil one (like Pisa airport). Pisa is one hour and half from Siena, and Rome Fiumicino is reaceble in less than three hours. Siena has only 55.000 inhabitants.

Thank you for helping!